Playgrounds are everywhere: in parks, at schools, by community churches and more.
So, you see them all the time—but have you ever stopped to think about what the playground equipment names actually are?
It's shocking! Even though playgrounds have been around for more than a century—the first U.S. playsystem built in 1886—most people are completely lost when it comes to playground equipment.
The jargon can be tricky and with constant advancements in the materials and designs, it can be hard to keep up. Luckily, our team at Kidstuff Playsystems happen to be playground connoisseurs and are ready to help you decipher these systems so that you can get to planning a playground for your school!
Here is an expert guide to playground equipment names:
Activity Panels
Promotes learning and creative thinking in the outdoors!

These panels could feature everything from puzzles and mazes to flying an airplane. Most of these activity panels are implemented in a playground design to encourage creativity and imagination, allowing kids to think out-of-the-box and exercise their minds.
Some panel features include:
· A clock to learn time
· The sign language alphabet and numbers
· Finger mazes
· Math equations
· Solar system
· Games and more
Balance Beam
In order to develop a good sense of balance and improve coordination, kids must be able to put their skills to the test.
Basic or themed balance beams are only a few inches off of the ground, providing kids with a safer way to practice their balancing act.

Climbers
Kids are always climbing; Whether it's around the house or at the elementary school playground, it's a great way to build strength while, of course having fun!
This particular type of playground equipment for schools helps to primarily keep the kids active and present them with opportunities to overcome obstacles to grow their self-confidence—and there is no shortage of climbers to deck your playground out with:
Coil Climbers
These climbers are in the shape of a spiral and gives that extra twist to your average ladder.
Snake Climbers
These refer to both a horizontal or vertical ladder that has a serpentine element to it, presenting kids with a new and more challenging way of entering or exiting the actual play structure.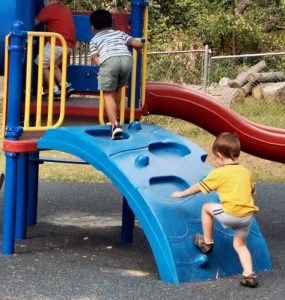 Mountain Climbers or Rock Walls
These climbers are slowly becoming all the rage. It brings rock climbing to the playground, allowing children to safely scale a wall that mimics actual rocks.
Wall Climbers
This equipment includes other variants of wall structures that you can find on a playground.
From a stand-alone zig-zag wall to a wild wall that can take on a variety of shapes, several kids are able to play on these at a time without it getting too crowded.
Monkey Bars
As a playground classic, the monkey bars are recognized by many.
Focusing on developing upper body strength, the monkey bars are a horizontal ladder lifted from the ground for children to cross from one side to the other swinging like monkeys from one bar to the next.
Musical Instruments
Playgrounds are focused on making a multi-sensory experience for every 5-12-year-old child.
What better way to do so than with music?
That's right—you can bring melodies and more to the playground with djembes and bongos.
See-Saws
A playground classic: the see-saw. This piece of playground equipment needs more than one child to make it work, functioning only from the balanced children that sit on each side.
Kids can watch as their friends move up towards the sky as they move down to the ground.
Swings
This type of playground equipment is somewhat of a necessity on playgrounds today. Not only do swings provide such a fun adrenaline rush for kids, but they also play a large role in developing a child's motor skills.
Belt Seat & Bucket Seat Swing

Another classic in the playground, the basic swing starts with a bucket seat (for toddlers) or a belt seat that hangs from a sturdy metal frame by a rope or thick chain.
Tire Swing
This type of swing allows for more kids to participate at a time, which is always that much more fun!
It is essentially a tire attached by thick chains hanging from a metal frame and allowing for a wide range of motion, unlike the traditional swing.
Spring Bouncers
Whether playing by themselves or with a group of friends, spring bouncers are exhilarating playground features.
Usually consisting of a seat or structure sitting on a spring, kids will hold on tight as they bounce around in place, nearly touching the ground.
From motorcycle spring rider bodies to a whole school bus, there's something for every playground.
Slides

Not many playgrounds are found without a slide. In so many shapes and sizes, playground slides are the perfect reward after all of the work a child puts in during their trek to the top.
There are many structural options to create unique slides for your playground:
• Spiral
• Wave
• Combo or tri-ride
• Tube
• Wide
Tunnels & Tubes
It's a more exciting way to get from here to there: through a tunnel!
Also known as connectors, tunnels or tubes can basically come in any size, most often based on the age group we're building for. They connect one play structure to another, giving kids a different more challenging route to follow as they explore.
Keep in mind that these are just a few of the many pieces of unique playground equipment that exist. But it's a start!
And now that you're an expert in the basics of playground equipment names, are you ready to plan out your dream elementary school playground?
Give the Kidstuff Playsystems experts a call at 1-800-255-0153 to get started!