Getting ready to plan out a new playground? Taking on such a project can be both exhilarating and intimidating— but remember, Rome wasn't built in a day!
Trust us—we speak playground. At Kidstuff Playsystems, we're experts in planning the most inclusive and sustainable play systems that meet the needs of all school age children.
And we're here to help!
Here are some essential steps to take when planning a playground:
Determine Your Playground Needs
Before you can plan a playground that meets your needs, you must figure out what those needs are.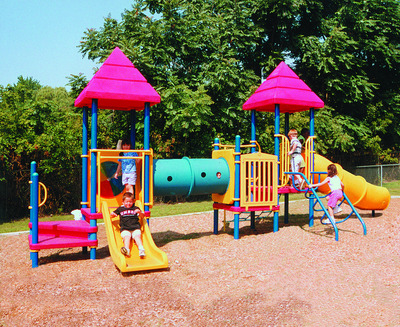 Who is your playground for?
Playground equipment for schools is tailored for different age groups.
· School Age 5-12 Play Systems
· Preschool 2-5 Play Systems
· Toddler 6-24mo Play Systems
Defining the age group that your playground will be used by will help you in choosing the various materials and elements you'll need to include.
Keep in mind that some playgrounds may need to cater to multiple age groups, which is very easy to accomplish with the variety of playground equipment that appeals to all ages.
How many children will you need to accommodate?
Now that you know the age group of children that will be playing on your playground, you have to think about how many children you'll be able to host at a time.
Will you have full classrooms that will be out playing or an entire grade that has recess at the same time?
Consider how many kids will be playing at a time to help you craft out your playground design.
What playground amenities will you need?
If you're planning an elementary school playground, then you're already off to an amazing start since most of essential amenities will already exist, like a parking lot.
Next you have to think about wastebaskets, benches, and vegetation to create a topography that works for you!
Assess Your Playground Site
It's time to roll out the tape measure and get to counting—you can't build an extraordinary playground without the space for it!
What size space do you have for a playground?
Are you designing a playground that has a lot of ground to work with or will you be working within a smaller space?
Taking stock of your current landscape will allow you to fill it with proportionate and appropriate playground equipment.
Keep in mind: a playground is more than just the equipment; it is beyond that. So, plan to leave a good cushion around the edges of your play space. This will ensure that your playground stays a safe and fun place for learning and exploring!
What kind of shape is your space in?
You can't build on unstable land and expect your playground to be safe.
Take note of any potential hazard areas and your soil conditions; if you find standing water after it rains, your playground will experience the same.
What weather does your play site experience?
Strong winds, direct afternoon sunlight, or heavy precipitation wreak havoc on your site?
Understanding the elements that your playground will endure can help you design a system that includes heavy and durable equipment and shade where needed.
Choose Your Playground Equipment
Does your elementary school don specific colors or is there a theme that you'd like to design your playground around?
Think big picture and envision your play site: what challenges will you incorporate? How much of an open area are you leaving to run around? And most importantly, what playground equipment do you plan to have?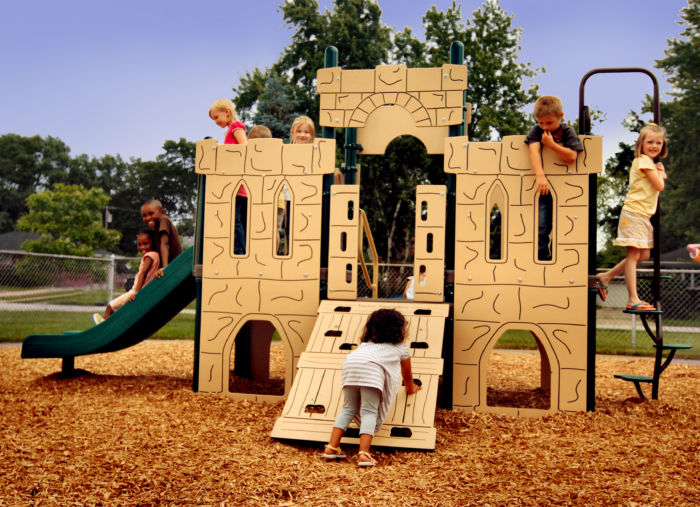 If you need some help navigating through all of the playground jargon, you can check out our guide to playground equipment names!
Think Accessible & Inclusive
You want to make sure that every child can explore on your playground; that's why keeping accessibility and inclusivity in mind is key.
The Summary of Accessibility Guidelines remains one of the most accurate summaries of what it means to comply with the Americans with Disabilities Act (ADA) and how to create an accessible playground. It's easy to understand and ensures inclusivity across playgrounds everywhere.
The summary was created by the U.S. Access Board to make this essential information more accessible (pun intended).
Consider Safety Standards
From the materials you choose to utilize, to the soft surfaces you install on your site, safety is of the utmost importance on the playground.
The U.S. Consumer Product Safety Commission (CPSC) created the Public Playground Safety Handbook, a set of guidelines for the safety standards of a playground.
Choose Your Playground Amenities
There is no playground without bike racks, benches, trash bins, and other useful amenities.
Though they are not technically a part of the playground, these items help to make a fun playground experience.

Establish Your Budget
Your budget should not be making all the decisions when it comes to your playground, but it will help you to set specific goals during your planning process.
Do you have funding, or do you need to host a fundraiser?
If you already have a set amount of funding, then start planning! If you will be fundraising your budget, then we suggest picking out the equipment and size of the playground beforehand so that you can set a fundraising goal.
Make sure to take into account:
• Cost of permits
• Cost of playground equipment
• Cost of shipping the equipment
• Cost of installation
• Cost of any additional features, like sidewalks or new trees
Take a Self-Survey
To help you refine what you are thinking of for your playground, you can print out our self-survey and use it as a planning aid. Or, if you want, you can fax or email the completed survey back to us and ask for help.
*This is just a planning tool to help you—we won't contact you unless you ask us to!
Now it's Time to Choose Your Builders!
Looking for a company that shares your vision of constructing the perfect playground for your school? Look no further than Kidstuff Playsystems.
When you work with us, you're working with designers, innovators, and fellow believers of playtime for kids.
Give us a call at 1-800-255-0153 today to learn more about the playground planning process.
Let's get to work!